Top 10 Review Of Safest Convertible Car Seats
Are you worried about your children while you travel with your cars? Well, if you are willing to make it a great and comfortable journey for your kid, here are the Top 10 Safest Convertible Car Seats.
| Pictures | Name | Rating | Buy Now |
| --- | --- | --- | --- |
| | Diono Radian RXT | 4.6 | |
| | Graco Nautilus 65 3-in-1 | 4.4 | |
| | Peg Perego Primo Viaggio Convertible | 4.5 | |
| | Maxi-Cosi Pria 70 Convertible | 4.3 | |
| | Eddie Bauer XRS 65 | 4.5 | |
| | Evenflo SureRide DLX Convertible | 4.5 | |
| | Safety 1st Summit Deluxe Booster | 4.1 | |
| | Chicco Keyfit 30 Infant | 4.7 | |
| | Britax Marathon G4.1 | 4.6 | |
| | Safety 1st Alpha Omega Elite | 4.5 | |
Top 10 Best Safest Convertible Car Seats
#1. Diono Radian RXT All-In-One Convertible Car Seat
Description:
The Diono Radian RXT car seat is a convertible car seat and booster. It has a steel alloy frame, aluminum reinforced side walls, EPS foam, and a 5 point harness. The adjustable headrest is also reinforced, and the manufacturer claims it has additional side impact protection.
The headrest has 12 positions (not related to shoulder strap height), the shoulder straps have 5 positions, and the crotch strap has 3. This seat has a hand washable seat cover, infant insert, an angled cup holder, rubber bottom grips, and uses memory foam. The seat is small enough to fit 3 side-by-side in most vehicles, can fold flat for travel, and is FAA certified.
Key Features:
The Radian allows for the top tether to be used in rear facing mode. To do so, use the attached d-ring to create a tether point. Wrap the d-ring around a fixed metal part of the vehicle, such as the rail of the front passenger or driver's seat, and attach the top tether strap. If a frontal location cannot be located, the Radian does allow tethering to the seat it is installed on.
Rear facing tethering is not a requirement, but Diono does recommend it. Many vehicle manufacturers do not allow rear face tethering so please verify your vehicle allows this before attaching the tether. It has additional forward facing recline positions to accommodate different contoured vehicle seats. The RXT has a 10 year life span before it expires, assuming it is not involved in a crash.
#2. Graco Nautilus 65 3-in-1 Harness Booster Car Seat, Sully
Description:
The Graco Nautilus 3-in-1 Car Seat is a great purchase for parents looking for a safe, durable product that they can use for several years. Not only is the car seat loaded with safety features, it is also easy to use and adapt from a car seat to a high back booster to a no back booster.
This is one of the best 3-in-1 car seats on the market and will likely be the only car seat you will have to purchase for your child besides an initial car seat for when they are under 20 pounds. To start with, the seat features a steel-reinforced frame that boosts both strength and durability. Thick EPS foam is incredibly energy absorbent. This seat is both side-impact and crash tested.
Key Features:
The Graco Nautilus 65 LX/65 DLX/80 Elite 3-in-1 car seat is a forward facing only combination seat that functions as a 5 point harness, high back booster, and backless booster. The Nautilus is not a new seat to the market, but what Graco has done has combined the best features of the Nautilus and Argos into one seat.
There was nothing wrong individually with either seat, but Graco has new combination seats coming to the market, and they didn't need two very similar seats sitting side by side on store shelves. Graco has also added a third recline position for the Nautilus. Any recline position can be used at any age, weight, or mode of seat. However, they really don't do a lot in terms of comfort for the child.
#3. Peg Perego Primo Viaggio Convertible, Crystal Black
Description:
The Primo Viaggio convertible seat is almost as impressive as its brother the Peg Perego Primo Viaggio 4-35 infant style seat. It is a nice seat that scored well for quality, comfort, and ease of use. This seat installs easily with the LATCH or vehicle belt in both the forward and rear facing positions.
It has a nice design that has a storage place for all things and a smooth finished looking fit and finish. In short, we do like this seat, but it failed to meet the high scores found in several other seats we looked at and paled in comparison to the Britax models and the Clek Foonf. Perhaps if it cost less or demonstrated an additional margin of safety in crash test then it would have been able to break the top three seats in this review.
Key Features:
The 45 lbs. maximum rear-facing weight limit is one of the highest on the market and means that even the largest toddlers will be able to rear-face in this convertible for a very long time. This falls in line with the revised policies of the American Academy of Pediatrics and NHTSA to keep children rear-facing to a minimum of age 2 and longer, if possible.
The average-above average seat depth will give larger rear-facing children plenty of leg room. Peg doesn't list a rear-facing height limit; use rear-facing until the child's head is within 1" of the top of the headrest. The harness height can be adjusted from the front of the seat while the PV is installed. Adjusting the harness height is accomplished by pulling the tab at the top of the seat and pulling up or pushing down.
#4. Maxi-Cosi Pria 70 Convertible Car Seat, Bohemian Blue
Description:
The Maxi-Cosi Pria 70 is a comfortable baby car seat with plenty of padding to keep your baby safe and secure. It includes many great safety features, including side-impact protection and energy-absorbing foam. Like all other convertible car seats, it is not compatible with any strollers, and the cushions are not machine washable.
The Pria will keep your child in a rear-facing position for the recommended two years, but its higher weight minimum makes it a poor choice for newborn babies. The seat has 12 adjustment settings for the harness, and the groin buckle has three settings. Your child will have room to grow in this seat for several years.
Key Features:
The Maxi-Cosi Pria 70 is a nice looking seat with better than average padding and tested side impact protection. It scored better than average for crash test and it has nice fabric that feels soft to the touch and breathable. Unfortunately, this seat scored about average for most of the metrics we tested, and while it did perform better than about half the products in this review, it still isn't enough to make this a seat we really liked.
With a list price that is only about average, several other seats earning more points, and the Britax Roundabout costing significantly less money, the Maxi-Cosi struggled to keep up with the competition despite looking good in a side-by-side comparison.
#5. Eddie Bauer XRS 65 Convertible Car Seat
Description:
The Eddie Bauer XRS is a great seat when you want something durable. It's a heavy one weighing in at 65 pounds, but some parents like the sturdiness that this weight offers, and if you are going to be leaving it in your car at any rate and not switching it back and forth between multiple vehicles all the time. This should not be a big problem for you. The Eddie Bauer XRS only comes in one color scheme.
The seat can be used facing forward or facing to the rear. When using it as a rear facing seat, the minimum weight is 5 pounds, so this seat is great for little preemies. In the rear facing scenario, the maximum weight is 40 pounds. Babies need to face forward when they reach 40 inches. When using it as a forward facing seat, the seat can be used with children from 22 pounds to 65 pounds and those who are 34 inches to 52 inches.
Key Features:
The depth of this seat is between average and on the high side. In smaller cars with the front seats most of the way back, you will likely not have room for this seat. In larger cars or with average-height height passengers in a midsize car it should fit well. The XRS 65 can be used rear facing starting at 5 pounds and up to 40 pounds.
This is a higher weight limit than many seats. The infant insert isn't great and can get bunched up, but this is really only need until around 10-12 pounds. While there's nothing innovative about the safety features of the XRS 65, this seat has passed all the same NHTSA crash tests that its competitors have. It does have side impact protection built into the frame, which isn't something you'll get with low-end car seats.
#6. Evenflo SureRide DLX Convertible Car Seat, Paxton
Description:
For rear-facing, the plastic recline foot (aka the pitchfork) must be engaged to create a suitable recline angle. If you have steeply sloped vehicle seats and you need more recline you can use a rolled up towel or baby blanket underneath the recline foot. A pool noodle won't work in this situation. SureRide must be installed so that the recline line stamped into the side of the seat is level with the ground.
Because it's a tall seat, this causes the SureRide to take up a fair amount of space front-to-back. The Evenflo Sure Ride DLX Convertible Car Seat meets or exceeds all applicable Federal Safety Standards, as well as Evenflo's Side Impact Test Standard for Structural Integrity.
Key Features:
The SureRide can be used rear facing from 5-40 pounds and 19-40 inches. This is adequate to keep most kids rear facing to 3-4 years old. The harness has two loops on the end to help fit a wider range of children. The smaller setting helps shorten the harness to ensure it can be tight enough on a smaller occupant; the longer loop is used to lengthen the harness for an older child.
In the US, the bottom four harness slots may be used when rear facing. Either installation method was easy to use. Thread the seat belt through the rear facing belt path and tighten until there is less than one inch movement side to side at the belt path. Lower anchors may be used for the full 40 lbs rear facing limit. When lower anchor connectors and/or tether is not in use, there are storage hooks on each side of the seat near the top.
#7. Safety 1st Summit Deluxe Booster Car Seat, Entwine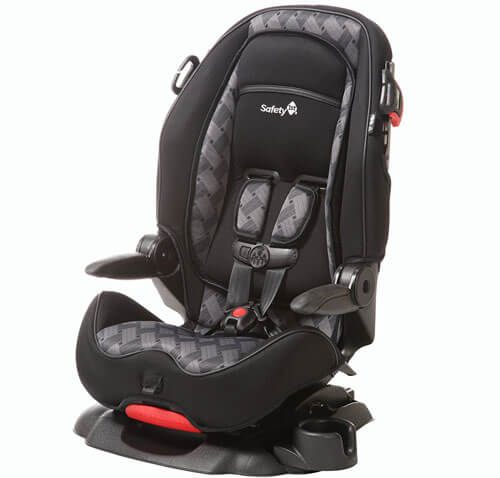 Description:
The cup holder is pretty sweet, it pulls out so he can reach it but can be pushed in to leave room for the middle seat. The side holders are too far under the seat to be useful for him but the still could hold stuff. The harness strap is amazing. No more undoing the strap and rethreading it to raise the height! Just pull a bar and the whole pillow and straps move up and down. Similar to how you move your car seat forward and backward with the bar under your seat.
Key Features:
The Safety 1st Summit Deluxe is a comfortable chair for kids with pivoting armrests and a cup holder that actually slides out. This seat offers keen side impact barriers for added protection in case of rough driving or a collision of any kind. The see accommodates children who are from 22 to 40 pounds, so it's definitely for older ones as you can see. But one nice feature is that you can also convert this seat into a booster for kids who reach 57 inches and are 30 to 100 pounds.
#8. Chicco Keyfit 30 Infant Car Seat and Base
Description:
This car seat is also airplane compliant, so if you do a lot of traveling, this car seat will serve the dual purpose of keeping your baby safe on the ground and in the air. The LATCH connectors on this car seat secure the seat tightly into place so that there will be virtually no movement in the case of an accident.
Many NICU nurses prefer the KeyFit because of its excellent infant cushion insert. If you have a premature or small child, the infant insert offers extra support and keeps your baby secure. When your baby is large enough, you can remove the insert. Although this seat works well with small children, your baby will outgrow it at 30 pounds and 30 inches, so you'll have to upgrade to a new car seat before long.
Key Features:
Chicco calls the Keyfit 30 the easiest infant car seat a parent can install, and goes as far as to call it the highest rated infant car seat throughout the United States. These are big claims to back up, but I'd say they're pretty close to accurate. It's a seat that was clearly thought out well ahead of time, and that led to a good design and solid construction.
The seat can be detached from its base and attached to Chicco strollers, which makes it easy to transport your children while on the go. The Chico KeyFit 30 is not designed to help you rear-face a child until the cows come home. What it does well is provide parents with a convenient and nearly fool-proof method of getting their child safely from the hospital and around for the first few months of life.
#9. Britax Marathon G4.1 Convertible Car Seat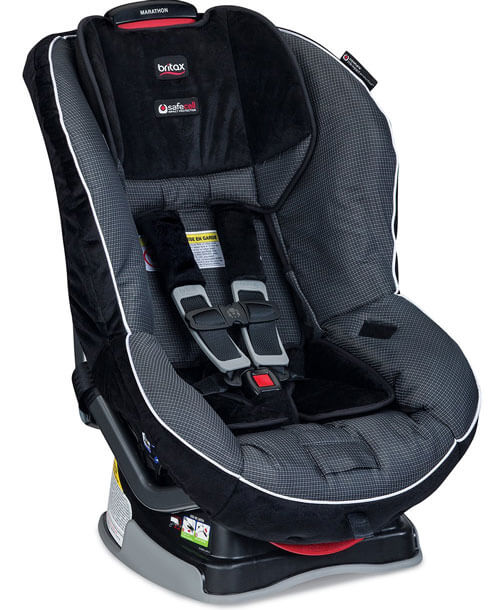 Description:
The Britax Marathon G4.1 is sure to please parents and caretakers interested in keeping up with the newest Britax convertibles while sticking to a budget. It's the newest version of Britax's popular Marathon convertible line, which Britax recently refreshed with the Marathon ClickTight, and which also featured the still-good Marathon G4. The Marathon G4.1 is an update to the G4, and a good one.
Your harness height can extend to a top height of 17.5," or .2? shorter than the top harness height in the Marathon ClickTight, which is 17.7." This means that your forward-facing time in the Marathon G4.1 will be, for all intents and purposes, about as good as it is in the ClickTight. In comparison, the Boulevard G4.1 top harness height is also 17.5," while the Boulevard ClickTight top harness height is 19.4."
Key Features:
The Britax Marathon (model G4.1) is the second highest ranking seat in our Convertible Car Seat Review. It managed a score of 82 out of 100 and has higher than average scores in every metric including crash test scores and ease of installation and use.
This seat is a soft, comfortable seat that is easy for parents to install and easy to use. It is hard to find anything wrong with this lovely seat that offers the easiest to use non-rethread harness height adjustment and 10 height positions for maximum adjustability and best fit for children of all sizes.
#10. Safety 1st Alpha Omega Elite Convertible Car Seat, Bromley
Description:
Safety 1st as a brand has got a lot of stuff going on. They have a ton of car seats to choose from, as well as strollers, play-pins, and other travel and safety gear. As the name suggests, Alpha Omega, Alpha being the 1st letter of the Greek alphabet and Omega being the last, this car seat is designed to be the only seat you will ever need.
This seat does have really nice and soft cushioning, with a good quality fabric that your child will feel comfortable in. They also have armrests that pivot and cup holders installed for the older kids using these seats.
Key Features:
The Safety 1st Alpha Elite 65 earned the lowest overall score in our review of 11 competing convertible style seats. This seat scored below average with a 48 out of 100, and disappointed in most of our tests. This seat offers a non-rethread harness and easy to use buckle that make strapping baby in easier than some of the competition, but securing the seat to the vehicle proved to be more difficult than any other seat we looked at, which is a large part of the equation when it comes to baby traveling safely.
The Safety 1st doesn't feel like the best option no matter what features or functions you are looking for in a seat. While it does offer one of the more budget friendly prices, it is only $10 less than the Britax Roundabout, which earned a fourth place rank and is much easier to install.
Some Awesome One :