How To Choose The Best Breast Pump: The Definitive Guide
Selecting the best breast pump is important for your comfort during the pumping process and your baby's health when consuming the expressed product. If you select a poor quality pump, you could end up with sore, inflamed breasts that are tender to the touch and painful during feedings. You may also end up with low suction quality which means you have to pump longer or will be unable to express the amount of milk your baby needs for consistent, satisfying feedings.
If you will pump while at work or in other public settings, you need a pump that is not only comfortable and efficient at its job but which is also quiet and discreet. There is nothing more embarrassing than announcing your pumping activities to everyone in the ladies room or walking through the mall with a pump slung over your shoulder.
As if that were not enough to think about, you also have to consider ease of use and cleaning. You don't want to spend too much time reading a long instruction manual. Trial and error type pumping sessions are never fun when you have an impatient baby waiting for a meal or you need to get out the door for work. Of course, you don't have the time or patience to deal with a complicated device that is difficult to clean after pumping sessions.
The best way to make sure your chosen breast pump meets every need for you and your baby is to read breast pump reviews. The comparison chart and shopper's guide featured right here will help you size up the best pumps on the market today. Using this resource, you can rest assured that you are bringing home the best breast pump for this delicate part of your body and that baby you love.
Included in the matrix are 7 columns:
Pump picture, brand and name/model – (click to view more details or to purchase).
Available discount at Amazon.com – (if available)
Pumping – Indicates if the pump supports either single or double pumping.
Adjustable Cycle Speed – Pump feature that allows cycle speed (speed of suckling) to be adjusted.
Adjustable Suction Level – Pump feature that allows suction level (pull of milk) to be adjusted.
Price – These are approximate prices on Amazon.com. These can change based on availability, special promotions, and more. The scale refers to: $ = under $99, $$ = $100 to $149, $$$ = $150 to $199, $$$$ = $200+.
Rating – The average user rating on Amazon.com. This can be very helpful as it can give you a general idea of the level of satisfation of other mothers with their purchase.
An Investment worth Your Time
It does take time to read breast pump reviews and carefully compare the features offered on different models. You may get overwhelmed when you see how many pumps are currently on the market and how many reviews are now featured online. Before you give up on this research and decide to hit your local store for the most affordable option on the shelf, consider what you are investing in with the purchase of a pump:
Convenience: pump whenever and wherever your life takes you.
Comfort: pump away from home so that your breasts do not overfill.
Health: ensure that you can feed your baby the healthiest breast milk even if there are issues with breastfeeding.
Bonding: include daddy and other family members in the feeding process for more bonding opportunities.
Sanity: get more sleep while someone else feeds the baby.
This is clearly one of the more important parenting tools you will buy while your baby is small. That makes it an investment worth the time needed to research the best options. Get it right the first time so that you don't have to return your pump and start shopping all over again.
What to Look for with Today's Market
The first decision you must make when shopping for a breast pump is whether you want to go with a manual, electric or battery-powered pump. Manual pumps are the cheapest and are often the quietest, but they also require more work on your part. Electric and battery-powered pumps are more convenient and many women find them easier to use and more comfortable. Most women now go with an electric pump, but there are still some circumstances where manual pumps are the best option.
You will also have to decide whether you want a double or single pump. This refers to either pumping one breast at a time or having the option to pump both breasts simultaneously. Some women find that when one breast is pumped, the other breast naturally starts to express milk. You can solve that problem and save yourself a lot of time by purchasing a double pump.
The quality and price point of your breast pump will also play a big part in your buying decision. There are some hospital-grade pumps on the market with high price tags, but they are typically used only by women who experience extreme difficulties feeding their babies. If you need to feed a preemie or you struggle to get your milk flowing due to infrequent breastfeeding sessions due to your baby's health, you may consider this higher quality grade essential.
If your baby feeds without problem or you need to watch your budget, there are many high quality breast pumps that will meet your needs without the hospital grade designation. Do not assume that the highest priced pumps are always the best pumps. Determine the maximum amount that you can afford to spend on this investment, and then shop for pumps within or slightly above that budget limit. You can sometimes find higher priced pumps on sale if you shop online, so don't rule a pump out until you shop around a bit.
Some other things to keep in mind as you look at the features on specific breast pumps include:
Portability
Ease of cleaning
Ease of use
Size
Noise
Durability
Suction force
Gentleness
Now that you have a better idea of what to look for when comparing different breast pumps, keep reading to learn more about the top five pumps featured on the above comparison chart.
Top 5 Best Breast Pump Reviews
#1. Medela Advanced Personal Double Breast Pump
There are a few basic features that you can figure out just from reading the name of this pump. It is an electric model and has dual suction cups for simultaneously pumping both breasts. What makes this pump among the best on the market is the two-phase extraction process.
The first phase is the stimulation setting which is designed to stimulate the breast so that the milk drops and expresses easily when you use the expression setting. It is easy to switch between these two settings, so you can use one or both of the phases at any time during each of your pumping sessions. You can also change the strength of the vacuum to ensure maximum comfort while pumping.
If you will express milk while away from home and are concerned about carrying your pump around discreetly, this pump comes with a brown carry case that does not advertise what you are toting around. This bag contains a cooler so that you can store your pumped milk safely until you get it securely to a bottle and into your baby's lips or to your home refrigerator. This is an essential feature if you don't want to store breast milk in the lunch room refrigerators while at work.
The carry bag incorporates the motor for this pump, so you don't have to worry about pulling a large pump out of the bag and trying to use it away from home. Expect good suction quality and comfortable pumping sessions from this easy-to-use pump.
#2. Philips Avent Double Electric Comfort Breast Pump
You like your flowers to perk up toward the sun, and you should expect no less from the best breast pump on the market. The uniquely-designed suction cups on this pump point up rather than straight ahead like most others. The advantage to this is more comfort during pumping.
Some women find that they need to lean forward in order to gain secure suction with their pump without pinching or other discomforts. This is tiring on the back, and it is not relaxing when you are already exhausted. The up-tilted suction cups on this model may just save you from a few backaches.
To increase the comfort of pumping even more, Philips Avent added massage cushions to the suction cups that attach to the breast. These small cushions will help stimulate the milk so that it drops and expresses easily, but it also makes pumping a bit more pleasurable.
When you first initiate a pumping session, this pump will gently stimulate your breasts to help the milk flow freely. From there, you get to select from three settings to determine how much suction power is delivered to extract the milk for your baby. During extraction, the cushions are designed to mimic the feel and rhythm of your baby's suckling, so your breasts are encouraged even more to express freely.
If comfort and ease of use are your biggest concerns, this is one of your best options on the market today.
#3. Medela Freestyle Breast Pump
This is a preferred breast pump for moms who have to express milk at work and in other sensitive public settings because it is small and weighs only one pound. Compare that to many other double breast pumps that easily weigh more than five pounds. If your goal is to simply express a bit of milk to get through the day comfortably, this is a quiet pumping option.
The Medela Freestyle pump operates with rechargeable batteries only, so there is no electric option. All honest breast pump reviews should tell you that battery operation typically means lower suction power. That is the case with this model, so it is not going to compete with the higher suction that you get with an electric model. If you need to express a lot of milk as quickly as possible, then there are more efficient pumps for your needs.
You do get a carry bag with this pump, but you may choose to slip the pump into your purse or whatever bag you prefer to carry on a normal trip out of the house. It is so lightweight and small that it won't take up much space and no one will know you are carrying it around.
The most advanced feature on this pump is the digital display which includes a timer. This is not an essential feature that you will necessarily look for in a pump, but it is quite convenient if you are worried about timeliness when you pump away from home.
#4. Lansinoh Double Electric Breast Pump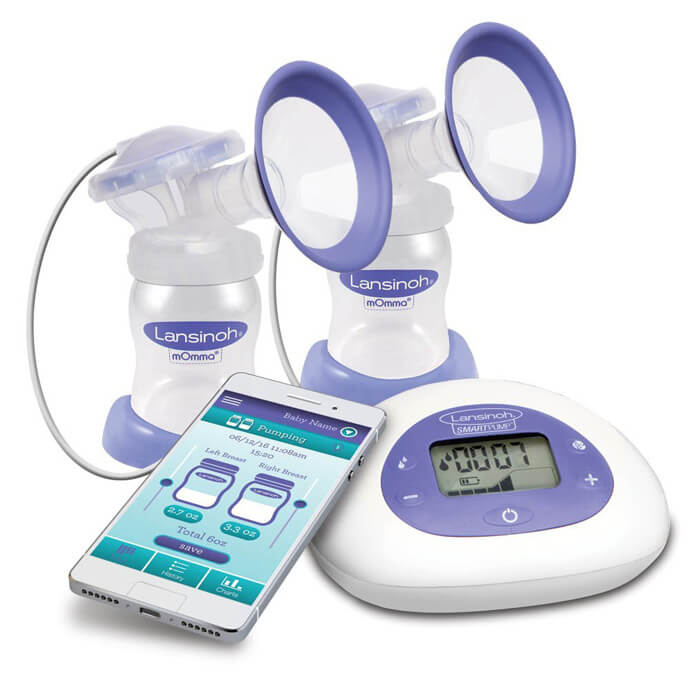 How fast will you pump and how intense will the suction force feel against your breast? It is all up to you with the double electric pump from Lansinoh. You won't find high-tech features on this pump, but you will find setting options that allow you to control the most important aspects of your pumping sessions. If your breasts are tender, turn down the suction force. If you are pressed for time, speed up the pumping action.
Other than those setting options, this is one of the most basic yet functional and easy-to-clean models currently available. It doesn't come with a bag, cooler or other nonessential accessories. It just comes with an efficient electric pump with advanced closed technology which prevents milk from backing up into the tubes and motor. This is important because the most time-consuming part of pumping with other systems is the process of cleaning out those tubes, and you never have to do that with this model.
If you want something basic yet efficient and easy to clean, look at this affordable electric pump.
#5. The First Years Breastflow miPump Double Electric Breast Pump
This is another dual pump that operates electrically, and it is from one of the most trusted brand names in the baby industry. You also have the option of operating this pump with A batteries, so there is always a way to keep your breasts comfortable.
What many mothers love about this pump is that it is super quiet compared to many other pumps. If you are worried about the sounds others will hear from your bathroom stall at work or in other social settings, you will feel more comfortable with the miPump.
The pump also comes with a carry tote that looks much like a stylish baby bag you may carry in place of your purse when traveling with your little one. No one has to know that you are toting a breast pump unless you decide to make that announcement. Combined with the quiet operation, this is one of the most discreet baby bags you will find on the market today.
Do you expect to multitask while pumping? This is a good fit to your lifestyle if you need one hand free at all times because it comes with a handle that is easily controlled by a single hand. If you thought you would need a single pump because most doubles require two-handed operations, you can rethink that assumption. This is a great feature to consider if you have other small children that may want your attention while you pump and care for the baby.
Your Turn
Now that you have seen the options and reviewed our top picks for the best breast pump on the market, it is up to you to decide what meets your needs, your price range, and overall help you in making the pumping process comfortable.
As you know, new pumps are always being created by new and old manufacturers. For that reason, the comparison chart above will be updated as new electric pumps need to be added to the list. Also, if you feel like and/or need a specific pump reviewed and added to the list, let us know using the contact us page.
Check This :