Best Fitness Boxing For Weight Loss
Fitness boxing is very popular nowadays and its appeal is increasing day by day. Previously combatants were unaware of their physical fitness but the trend is changing.
Now, the dirty sweat filled the atmosphere of a boxing club has become the most favorite place of thousands of young and aged people who like to pass their leisure hours exercising and losing weight. It is so demanding that if you find a local fitness center in a walking distance from your home, I can bet you will get yourself admitted there without thinking twice.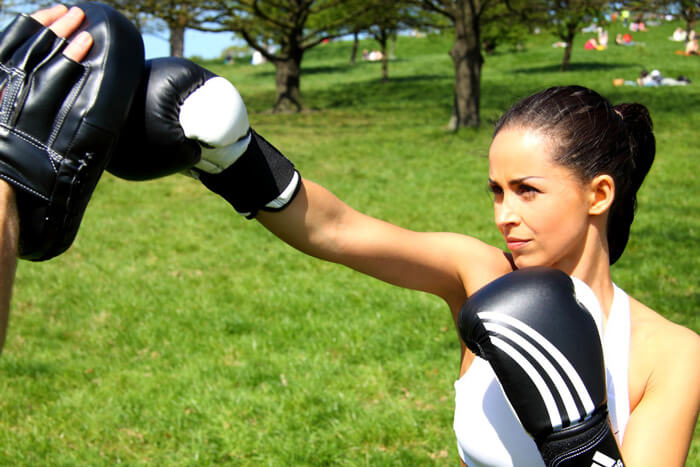 Those days are gone when the large bulky alpha males with chips on their shoulder were predominant in this field. The figure gurus are now way more conscious about health fitness and offering different boxing training related to fitness. They have developed a wide range of specialized workout programs that will turn your fat into muscles within weeks.
Benefits Of Fitness Boxing
Fitness boxing is awesome because it requires very few equipment and space. You do not have to invest a lot of time for workouts. You can do it at home or in a class with other people. The fitness boxing is a bit different from other standard boxing training. It puts emphasis mostly on anaerobic and aerobic movements and puts less stress on hard fist in contact with the training equipment.
People who are having fitness-boxing do physically hit pads or punching bags during that time. They do it to bring some excitement into their exercise routines and most of the people are drawn to this fact. Women also like to blow off the steam from body developed from mundane city jobs.
Fitness boxing is fun because you will get the opportunity to enjoy different exercise routines such as jumping rope, jogging, shadow boxing, punching drills, cycling, treadmill running, strength training and more! There are some techniques for fitness boxing which have an effect of exercise on the body within a short time. The techniques are made of divided into some sessions each consisting of short bursts of intense physical movements. Once a part is complete, you will be given a short break to relax.
What Should You Buy For Fitness Boxing?
Boxing gloves manufacturing companies are trying to add diversity to the design and color of the gloves. Now, they are producing more stylish and protective gloves. As women are also participating in fitness boxing in a large number, companies have given more importance to the style. For example, some gloves are purple in color. Though they look stupid, they are actually adding color and personality to your boring exercise session.
Apart from its appearance, women should be careful about the manufacturing company of the gloves. The company should have a good reputation for their gloves and guarantee the full protection of your hands and wrists. Lightweight (8-10 ounces) gloves are more appropriate for fitness exercising. They provide ample padding and completely fit on your hands.
The size of your boxing gloves is very important. If they are too small or too large, it will create many problems while using. If you want to order it online, go to your local sporting goods store and find out your perfect size. Then provide the measurement of your gloves to them through the internet.
How To Wash-Down Your Boxing Gloves?
Boxing gloves are not like other standard gloves on the market. A boxing glove has two sides- outside and the inside. The outside is technically called the 'skin' which is made with top grain tanned leather from goatskin/cowhide. Inside of a glove is called 'padding' which is made of high-density polyurethane, nylon taffeta, cotton, and (PVC) foam. A boxing glove is cut, assembled, stitched, stuffed, and finished by hand.
As the boxing gloves are different, there are some special ways to keep it clean, strong, and dry. Here I have provided some ways:
Gloves easily get sweaty, especially while doing workouts. So, you must keep it open after removing it from hands. The fresh air will pass through the open space and help it to dry soon. Alternatively, you can put the fan to hit so that it dries out the inside and takes the odor away. If you do not take care of your gloves properly, they will not last long.
You can also use Febreze to wash down your gloves. This is used to kill the bad odor and bacteria from the gloves. Spray it inside the glove and get a fresh glove within minutes. You can use it to clean the outside as well.
The ringside can also be used for cleaning the boxing gloves. All you have to do it putting it in and then leave it to get a cleaned out glove free from bad smell. But, Febreze is cheaper and the working procedure is also very easy.
Conclusion
You must clean out the gloves and dry as best as you can to get germ and sweat free gloves. If you follow the above-mentioned ways, you will be able to eliminate sweating and damage bacteria completely.
Watch Now :